Social Responsibility
"A better company for our people"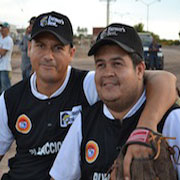 Farmer's Best holds an unshakable core belief. Cultivating a positive relationship to society, and continually benefitting people is critical to operating effectively. Social responsibility is part of the measure of our overall performance.
For us at Farmer's Best, the practice of social responsibility is directly related to our ability to endure, and Farmer's Best has endured from one century well into another.
Highlights of the Farmer's Best Commitment to Social Responsibility:
Create a community of support for the entire team and their families
Provide sustaining employment throughout the production season
Develop and implement programs to accelerate community/employee development:

Schools
Daycare Centers
Housing
Nutrition and Health Programs
Medical and Dental Assistance
Safety Training and Programs
Income Maximization Programs
Testimonials
Urvano Vega García

Coordinator of cultural activities

"In this company we have a lot of opportunities to grow. I started as a laborer an now I coordinate between 1500 and 1700 people. The company has trained us and I feel very at ease here."

Tere Lizarraga

Coordinator of social work

"Since I joined the company, my commitment to continue to improve is greater. I have gained emotional and economical stability. Providing care for our migrant population has sensitized me to the vulnerability of those who need us."

Yessica Carrera

Coordinator of personnel management

"The greatest reward I get from my job is the learning, growth and experience, and personal growth. It is very gratifying to know that working here has helped me reached my goals."

Alberto Medina

Special Projects Coordinator of Social Prevision

"From my point of view, training at all levels of the organization has been a key factor for success that has personally impacted me positively. I have improved my skills and attitudes that have helped me make better decisions at work and in my personal life."

Aracely Leyva

Asset Manager

"I started as assistant fiscal manager. After just over two years, the former Director of the group, Mr. Roberto Tarriba, put me in charge of the department, giving me the opportunity to contribute my bit to the growth to this great company, which has seen me grow personally and professionally. I've come to love it like a second family to which I am proud to belong, honor and respect."

Roberto Ramirez Hernandez

Laborer

"Being part of this company is a great honor. Thanks to this company I've grown professionally and personally thanks to the constant training it provides to contribute to the well being of laborers."
Click on photo to enlarge